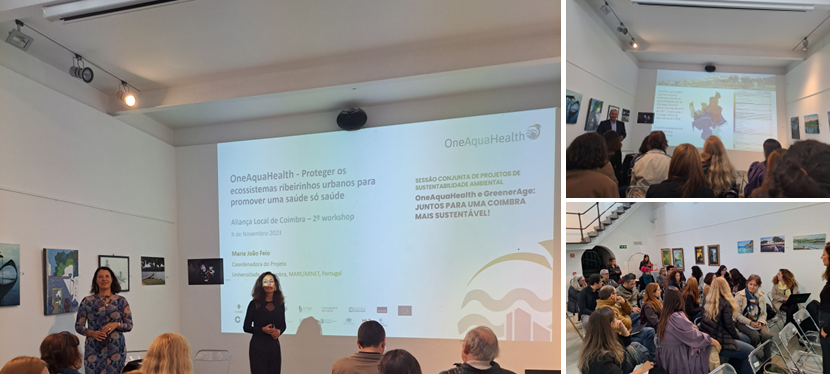 A public joint session "Together towards a more sustainable Coimbra"
The city of Coimbra was the stage for a public Joint Session co-organised by the OneAquaHealth and GreenerAge projects, under the topic Together towards a more sustainable Coimbra, held on the 8th of November 2023, at the Antiga Estação Elevatória do Parque (Water Museum in Coimbra).
This initiative brought together several prominent entities in the city, all united by a common goal: promoting the sustainability of local communities and OneHealth  in urban environments.
The event was co-organized by the Freshwater Ecology research team from the University of Coimbra, and Marine and Environmental Sciences Centre , in partnership with SHINE 2Europe, with the aim to present the OneAquaHealth project and other initiatives ongoing in the city that encourage dialogue between the main local stakeholders about environmental sustainability and specifically, the health of freshwater ecosystems and humans .
This was the setting for the second gathering of the Local Stakeholder Alliance of the OneAquaHealth project, which already a relevant number of public organisations, private entities in the sector, policy makers, the educational community, NGOs, associations and industry, all of which will play a fundamental role in the local development of the project in the coming years.
The session was opened by Maria João Feio from Marine and Environmental Sciences Centre (MARE) and Carina Dantas from SHINE 2Europe, both promoters of the event, who introduced the OneAquaHealth and the GreenerAge projects respectively.
The session continued with several presentations from members of the OneAquaHealth Coimbra Local Alliance, who shared relevant initiatives as well as their commitments and expectations for the project. Participants were Nathalie Nunes from the Center for Social Studies at the University of Coimbra, Lúcio Meneses de Almeida from the Regional Health Administration of the Center, Ana Margarida Silva from the Eugénio de Castro School Group (Solum-Sul), Elisabete Pitarma from Cáritas Diocesana de Coimbra and José Raposo from the Environment Department of Coimbra City Council. Following the various presentations, a lively debate took place on synergies and collaborations to be initiated, including the role of the Local Alliance and further steps.
The OneAquaHealth Coimbra Local Alliance remains open to specific partners in contributing to the management of health, urban aquatic ecosystems and the well-being of citizens. Entities that participated in today's event – or others that are aware of the initiative – and that wish to join the Alliance can contact the OneAquaHealth team.
The Local Alliance gathering was extremely enriching for all citizens, universities, schools, research units, political decision-makers and other entities present, who demonstrated their high interest and commitment to collaboration. This dedication gives hope for a more sustainable Coimbra, with organizations committed to shaping the future of the city and who have already planned practical actions based on what was shared during this public session.