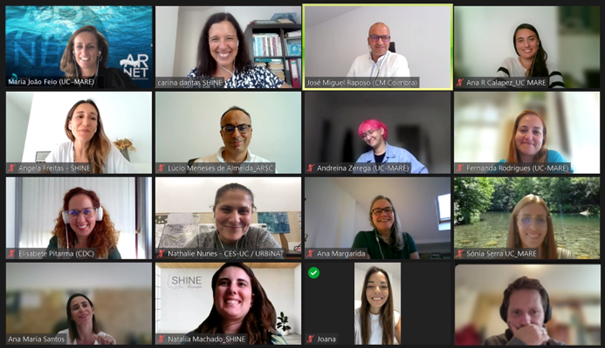 OneAquaHealth project meets with Regional Stakeholders in the first of a series of Stakeholder events
On Thursday, September 21st, the University of Coimbra and SHINE 2Europe organised an online Workshop in which regional stakeholders in Coimbra, Portugal, were introduced to the OneAquaHealth project and initiated into the Local Alliance Programme.
The OneAquaHealth project aims to promote the use of environmental observations to help form policies on human and aquatic ecosystems health in urban environments. To do this, the project is collaborating with local stakeholders in five European research sites. Together, they will design, build, and validate a platform that can monitor local urban aquatic ecosystems. Citizens will be able to report their observations on local streams, data will be analysed, processed, and contextualized – and finally presented in a meaningful way to policy makers.
To ensure that all local stakeholders can provide their input to the project's objectives, the project is using so-called "Local Alliances" in each of the five European Research sites. Each Local Alliance consists of a diverse group of organisations, covering the different relevant societal roles.
In this first of a series of events that was held on September 21st, members of the project representing the University of Coimbra, and the Marine and Environmental Sciences Centre (MARE) and team members of SHINE 2Europe, a Portuguese expert organisation on stakeholder engagement met with local stakeholders of 7 different regional organisations. These first seven members of the Coimbra Local Alliance were introduced to the OneAquaHealth project's objectives and challenges by the project's Coordinator Maria João Feio. After that, Carina Dantas, CEO of SHINE 2Europe, explained why the regional stakeholder's input is crucial, and how they could help the project in the years to come.
Finally, all regional stakeholders showed their commitment to contribute to the project's goals, bringing on-board the first seven Local Alliance members: Caritas Diocesana de Coimbra, Câmara Municipal de Coimbra (Dept. Ambiente), ARS Centro, Agrupamento de Escolas Eugénio de Castro (Solum and Solum-Sul), Universidade Coimbra – Centro Estudos Sociais (Proj. URBINAT), Coimbra Coolectiva, and Águas de Coimbra.
The team in Coimbra is now working diligently on preparing the next workshop which is slated to take place early November of this year, as well as finding additional Local Alliance members. Is your organisation involved in the dealings of urban aquatic ecosystems in the Coimbra region? Please contact the OneAquaHealth team, as we would love to get in touch!